~Millie is a supporting protagonist for The Railroad Girl.~
Full Name: Millie The French Narrow Gauge Engine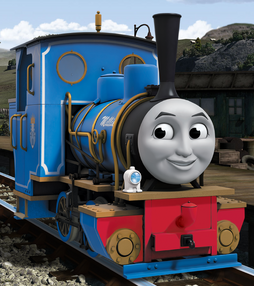 Also Known As: Mill
Species: Narrow Gauge Steam Engine
Gender: Female
Age: 8
Relatives: Decauville (designer and builder), Peter Sam (boyfriend), Sir Handel (crush on his side)
Hair Color: N/A
Eye Color: Black
Skin Color: Grey
Appearance
Edit
Millie is painted French blue with white lining, a golden running board, boiler bands and wheel spokes, and her name painted in white on the sides of her tank.
Even though Sir Handel tries desperately to win her affections, Millie prefers Peter Sam because she thinks he (Peter Sam) is a very good artist
She is a youthful, fun-loving, friendly engine who is full of spirit, and can be fiery when angered
She is also fair-minded and never spiteful
She will take it upon herself to teach an uppity engine a lesson, should she feel the need
She is the only engine in Winter City to hail from France
She knows quite a bit about French culture and language
She is the only other engine besides Duke without buffers
Ad blocker interference detected!
Wikia is a free-to-use site that makes money from advertising. We have a modified experience for viewers using ad blockers

Wikia is not accessible if you've made further modifications. Remove the custom ad blocker rule(s) and the page will load as expected.