~Molly is a supporting protagonist for The Railroad Girl.~
Full Name: Molly The Big Yellow Engine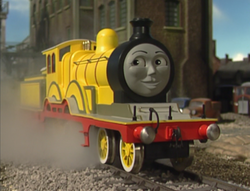 Also Known As: Molly the Mighty
Species: Steam Engine
Gender: Female
Age: 14
Relatives: James Holden and Frederick V. Russell (designers), Stratford Works (builder), Murdoch (father), Edward (boyfriend)
Hair Color: N/A
Eye Color: Black
Skin Color: Grey
Appearance
Edit
Molly is a yellow tender engine with yellow paint with grey and red lining, and gold boiler bands.
Molly has the same wheel arrangement as Edward
Her favorite TV shows are Shaun The Sheep, The Angry Beavers, Rocko's Modern Life, Rugrats, and Kenan & Kel
Her favorite books are the Nancy Drew series
Before they were BFF's, Molly and Emily DID have some troubles, but they were all worked out
She is one of the only 4 engines with silver buffers, the other 4 being Emily, Stanley, and Stepney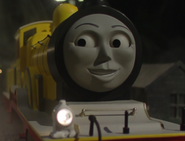 Ad blocker interference detected!
Wikia is a free-to-use site that makes money from advertising. We have a modified experience for viewers using ad blockers

Wikia is not accessible if you've made further modifications. Remove the custom ad blocker rule(s) and the page will load as expected.