~Nelson is a supporting protagonist for The Construction Boy.~
Full Name: Nelson The Ballast Tractor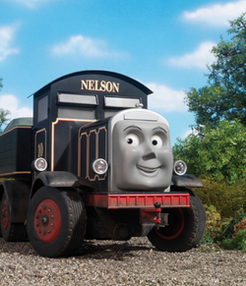 Also Known As: Nel
Species: Ballast Tractor
Gender: Male
Age: 16
Relatives: Emmet Brickowski (owner)
Hair Color: N/A
Eye Color: Black
Skin Color: Grey
Appearance
Edit
Nelson is a black ballast tractor with cream lining, red alloy wheels and a front beam. He has his name painted on his front cab above his windows and has the number "10" written on his cab doors in cream.
Nelson is a clever, intelligent, and wise ballast tractor who often feels overworked but never complains
He is proud of his paint and is happiest when he looks his best
Although he will never offer up a complaint, he is the first machine to comment on what is going wrong on the construction site
His main purpose is transport for Emmet and his family to and from work and to transport loads
Ad blocker interference detected!
Wikia is a free-to-use site that makes money from advertising. We have a modified experience for viewers using ad blockers

Wikia is not accessible if you've made further modifications. Remove the custom ad blocker rule(s) and the page will load as expected.