Nelson Baxter is one of the main protagonists for Adventures With The Grasshoppers.
Full Name: Nelson Noah Baxter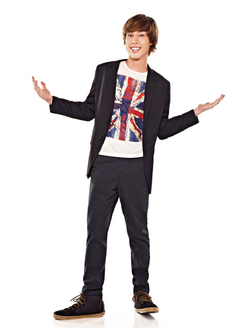 Also Known As: Nel
Species: Human
Gender: Male
Birthday: July 24, 2000
Age: 17
Relatives: Percy Baxter (father; deceased), Joan Baxter (mother), Applejack Smith (girlfriend)
Hair Color: Dirty Blonde
Eye Color: Hazel
Skin Color: Fair
Appearance
Edit
Nelson always wears a black blazer, a white t-shirt with a Union Jack on it, dark gray pants, and dark gray and black shoes.
Nelson shares his birthday with American singer and actress Jennifer Lopez
His father died of a brain tumor when he was 3, placing him in the care of his mother
His instruments are a Fender Esquire, a Rickenbacker 360, a Maton SE777, and a Farfisa Professional 33D
Apart from music, he is also a fan of science fiction, particularly franchises such as Star Wars, Star Trek, and the Alien franchise
He sometimes likes to speak in a British acent
Ad blocker interference detected!
Wikia is a free-to-use site that makes money from advertising. We have a modified experience for viewers using ad blockers

Wikia is not accessible if you've made further modifications. Remove the custom ad blocker rule(s) and the page will load as expected.