~ Neville is a supporting protagonist for The Railroad Girl.~
Full Name: Neville The Steamie Who Looks Like A Diesel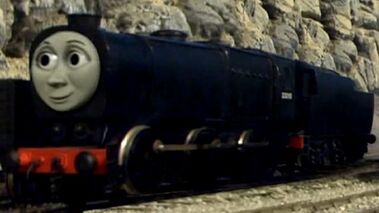 Also Known As: Nev, Mister Neville (only by Toad)
Species: Steam Engine
Gender: Male
Age: 13
Relatives: Oliver Bullied (designer), SR Brighton Works (builder)
Hair Color: N/A
Eye Color: Black
Skin Color: Grey
Appearance
Edit
Neville is a black steam tender engine with black paint and the number "33010" painted on both sides of his cab in white.
Neville is a fan of Puerto Rican singer Jose Feliciano
He likes to read the Baby-Sitters Club books
Sir Handel once made fun of Neville for looking like a diesel, but Fred, Steve, Thomas, and Porter were able to convince him (Neville) to not let what Sir Handel says bring him down
Ad blocker interference detected!
Wikia is a free-to-use site that makes money from advertising. We have a modified experience for viewers using ad blockers

Wikia is not accessible if you've made further modifications. Remove the custom ad blocker rule(s) and the page will load as expected.