~Nose Marie is a supporting protagonist for The Railroad Girl.~
Full Name: Marion "Nose Marie" Penelope Spott (nee Adams)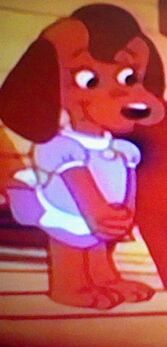 Also Known As: Miss Nose Marie
Species: Dog
Gender: Female
Birthday: November 6, 1982
Age: 33
Relatives: Pierre Adams (father), Julia Adams (mother, deceased), Brandon Adams (older brother), Cooler Spott (husband), Greg Spott (brother-in-law), Bright Eyes Clarkson-Spott (adoptive niece), Doki Spott (nephew)
Hair Color: 2 shades of brown
Eye Color: Black
Skin Color: Peach
Appearance
Edit
Nose Marie always wears a purple dress with a white apron, white cuffs on the sleeves, and a white dog collar, except when she's in bed or swimming.
Like Stepney and her nephew, Nose Marie's favorite band is The Bee Gees
She shares her birthday with late American musician Glenn Frey, who was best known for his work with American rock band The Eagles
Also like Cooler, she loves to go biking and owns a bike similar top Cooler's only hers is pink. Plus it has a basket
She gets her nickname from how she has a really good sense of smell
Ad blocker interference detected!
Wikia is a free-to-use site that makes money from advertising. We have a modified experience for viewers using ad blockers

Wikia is not accessible if you've made further modifications. Remove the custom ad blocker rule(s) and the page will load as expected.