Oona is one of the main protagonists for White Falcon Adventures and the tambourine player for The White Falcons.
Full Name: Oona Hiroki Kishi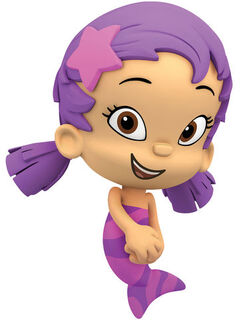 Also Known As: The Sweetie Pie
Species: Guppy
Gender: Female
Birthday: April 1, 2008
Age: 9
Relatives: Satoru Kishi (father), Whitney Kishi (mother), Gil Hall (love interest)
Hair Color: Purple
Eye Color: Brown
Skin Color: Light Tan (purple and pink tail)
Appearance
Edit
Oona always wears a purple leotard and a pink star-shaped hair clip.
Oona shares her birthday with late English musician Ronnie Lane, best known for being the bass player with English rock band The Small Faces
She is insecure about her weight, as someone once called her fat
Because of this, she mainly tries to maintain her health by eating lots of fruits and vegetables as well as foods with low amounts of fat or no fat at all
Her father is Japanese, but her mother is American, making her a Japanese-American
She is a big fan of the Peanuts franchise, with her favorite character being Snoopy, and she has a plush toy of and a bedroom commemorating the famous beagle
Her instrument is a TMB-124
She is very close to Gil 
She is the only female member of the band 
Ad blocker interference detected!
Wikia is a free-to-use site that makes money from advertising. We have a modified experience for viewers using ad blockers

Wikia is not accessible if you've made further modifications. Remove the custom ad blocker rule(s) and the page will load as expected.