~Percy is a supporting protagonist in The Railroad Girl.~
Full Name: Percy The Small Engine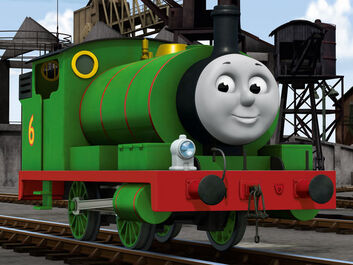 Also Known As: Little Green Caterpillar
Species: Steam Engine
Gender: Male
Age: 6
Relatives: Avonside Engine Company (designer and builder), Henry (brother)
Hair Color: N/A
Eye Color: Black
Skin Color: Grey
Appearance
Edit
Percy is a small green saddle-tank engine with green paint with red lining, a brass dome, and the number "6" on his coal bunker
Percy, being one of the youngest engines on the Winter City railway, has a giant teddy bear with him when he sleeps in his shed at night
He is scared of the dark, so he uses a night-light
His favorite TV shows are Blue's Clues and Bear In The Big Blue House
He LOVES pulling the mail
He is emotionally attached to his teddy and treats it as if it were a living person
He even named his teddy "Oscar."
Ad blocker interference detected!
Wikia is a free-to-use site that makes money from advertising. We have a modified experience for viewers using ad blockers

Wikia is not accessible if you've made further modifications. Remove the custom ad blocker rule(s) and the page will load as expected.