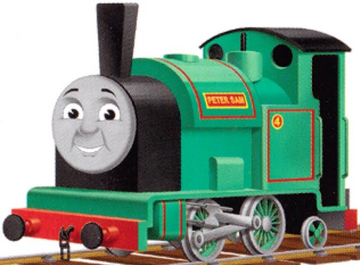 Peter Sam is one of the main protagonists of The Railroad Girl.
Full Name: N/A
Also Known As: P.S., The Art Lover
Species: Narrow Gauge Steam Engine
Gender: Male ♂
Age: 10
Relatives: Kerr Stuart (designer and builder), Millie (girlfriend)
Hair Color: None
Eye Color: Black
Skin Color: Grey
Appearance
Edit
Peter Sam is a dark green narrow gauge saddle-tank engine with dark green paint with red and gold lining, his name on both sides of his tank, and the number "4" on both sides of his coal bunker.
Peter Sam used to be named Stuart after his builder, Kerr Stuart, but when he arrived in Winter City, he was renamed Peter Sam after the late Mayor Peter Sam
Peter Sam used to have a regular funnel, but after an accident he had with some slate cars, his funnel was severely cracked, so he was given a special funnel as a replacement
Peter Sam is fond of art and is often seen watching "The Joy Of Painting With Bob Ross" on TV
He is also a very skilled artist and owns and runs his very own art studio next to the Winter City Diesel where he makes beautiful paintings, drawings, etchings, and sculptures
His artistic skills have won him a spot on the WCDA (see this page for more info) as the team's sketch artist
Ad blocker interference detected!
Wikia is a free-to-use site that makes money from advertising. We have a modified experience for viewers using ad blockers

Wikia is not accessible if you've made further modifications. Remove the custom ad blocker rule(s) and the page will load as expected.