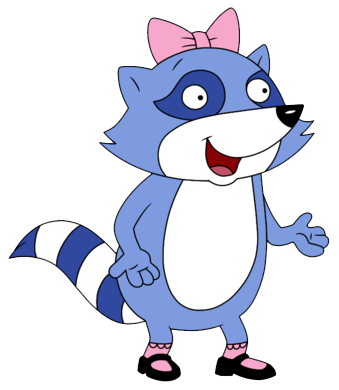 Pinch Raccoon is the main protagonist of We're The Raccoons.
Full Name: Priscilla "Pinch" Clarice Raccoon
Also Known As: Pinchy
Species: Raccoon
Gender: Female ♀
Birthday: March 5, 2012
Age: 5
Relatives: Walter Raccoon (father), Wanda Raccoon (mother), Scootch Raccoon (younger brother), Megan Raccoon (paternal grandmother), Timothy Schafer (maternal grandfather)
Hair Color: Blue, Light Blue, White
Eye Color: Black
Skin Color: Peach
Appearance
Edit
Pink waterproof bow, pink frilly socks, black Mary Jane shoes.
Pinch shares her birthday with late British singer, songwriter, performer, and teen idol Andy Gibb, who was the youngest of the Gibb Brothers, which also consisted of Bee Gees members Barry, Robin, and Maurice Gibb.
Pinch gets her nickname from how she pinched her father's thumb on the day she was born.
Pinch loves to dance, and takes tap, ballet, and jazz classes in her spare time.
Ad blocker interference detected!
Wikia is a free-to-use site that makes money from advertising. We have a modified experience for viewers using ad blockers

Wikia is not accessible if you've made further modifications. Remove the custom ad blocker rule(s) and the page will load as expected.