Pinkie Pie is one of the main protagonists of A Seal's Tale.
Full Name: Diane "Pinkie Pie" Shannon Kent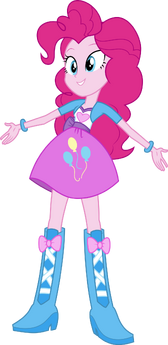 Also Known As: Pinkie
Species: Human
Gender: Female
Birthday: April 22, 2003
Age: 14
Relatives: Jeff Kent (father), Madge Kent (mother), Ravi Ross (boyfriend)
Hair Color: Dark Pink
Eye Color: Creulean
Skin Color: Pale Pink
Appearance
Edit
Pinkie always wears a white t-shirt with purple lining and a pink heart, a light blue short-sleeved jacket, light blue bracelets, a purple skirt with a balloon pattern on it, and light blue boots with pink bows and white laces.
Pinkie shares her birthday with late American singer, guitarist, songwriter, television host, and actor Glen Campbell, best known for a series of hit songs in the 1960s and 1970s, and for hosting a music and comedy variety show called The Glen Campbell Goodtime Hour.
She is an expert baker and party planner, and works a paid internship at the local bakery.
She also loves candy, especially chocolate.
She also has an emotional side, and usually cries uncontrollably if something emotional happens.