Quetzal is a supporting protagonist for CJ & The Dragon Pack.
Full Name: Quetzal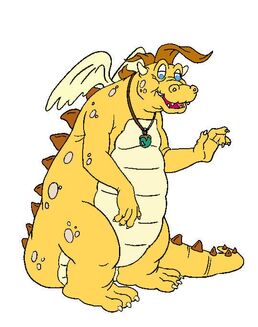 Also Known As: Quetzal The Wise
Species: Dragon
Gender: Male
Birthday: December 31, 1940
Age: 76
Relatives: Fernando (twin brother)
Hair Color: N/A
Eye Color: Pale Blue
Skin Color: Yellow and brown
Appearance
Edit
Quetzal always wears a dark green orb on a brown leather necklace, regardless of season.
Quetzal shares his birthday with late English singer-songwriter Davy Jones, best known for being part of The Monkees as well as the band's guitarist, Michael Nesmith
He is fluent in both Spanish and English
He serves as a teacher and a mentor to the dragons, mainly Ord and Cassie
Ad blocker interference detected!
Wikia is a free-to-use site that makes money from advertising. We have a modified experience for viewers using ad blockers

Wikia is not accessible if you've made further modifications. Remove the custom ad blocker rule(s) and the page will load as expected.