Rarity is one of the main protagonists of Adventures With The Grasshoppers.
Full Name: Rarity Ophelia Welles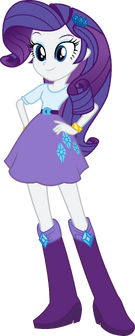 Also Known As: Mi Flor Del Desierto (My Desert Flower)
Species: Human
Gender: Female
Birthday: September 17, 2001
Age: 16
Relatives: Hondo Welles (father), Betty Welles (mother), Sweetie Belle Welles (younger sister), Zander Robbins (boyfriend)
Hair Color: Moderate Indigo
Eye Color: Moderate Azure
Skin Color: Pale Grey
Appearance
Edit
Rarity always wears a light blue t-shirt, a dark purple belt with a blue buckle, a lavender skirt with a diamond pattern on it, dark purple boots with blue diamonds on them, and gold bracelets on her wrists. She also wears light blue eye shadow on her eyelids and a blue diamond barrette in her hair
Rarity shares her birthday with American stock car racer and seven-time NASCAR champion Jimmie Johnson
Like her boyfriend, she is a bit vain and always tries to look her best
She is an expert fashion designer and often designs outfits for the gang
Despite her vanity, she is very loving towards her sister and will always do what's best for her
Ad blocker interference detected!
Wikia is a free-to-use site that makes money from advertising. We have a modified experience for viewers using ad blockers

Wikia is not accessible if you've made further modifications. Remove the custom ad blocker rule(s) and the page will load as expected.