~Rocky is a supporting protagonist for The Adventures Of Tinker & Co..~
Full Name: Rocky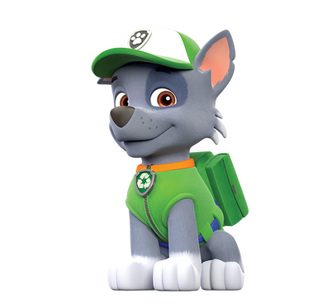 Also Known As: Little Buddy
Species: Mixed Breed
Gender: Male
Birthday: April 1, 2011
Age: 5
Relatives: Ted Doherty (owner and best friend)
Hair Color: 2 shades of grey (white paws)
Eye Color: Brown
Skin Color: Peach
Appearance
Edit
Rocky mainly wears an orange collar with a badge showing a white recycle symbol on a green background, though he sometimes wears it with a green vest with a green and white cap.
Rocky shares his birthday with late British bass guitarist Ronnie Lane, best known as the bass player for The Small Faces
He followed Ted home from the supermarket and has lived with him and his housemates as well as his sister since
He thinks Babu is really funny and often laughs when he (Babu) goofs something up. Of course, he doesn't laugh at Babu to be mean. He just finds Babu's misfortunes funny.
Ad blocker interference detected!
Wikia is a free-to-use site that makes money from advertising. We have a modified experience for viewers using ad blockers

Wikia is not accessible if you've made further modifications. Remove the custom ad blocker rule(s) and the page will load as expected.