Roger is the deuteragonist of Chuggie & Pals.
Full Name: Roger The Little Red Locomotive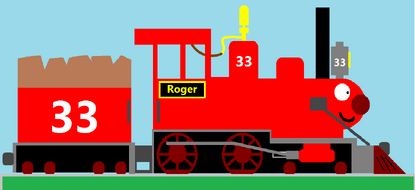 Also Known As: Rog
Species: Steam Engine
Gender: Male
Birthday: September 7, 2003
Age: 14
Relatives: Butch Cassidy (owner), Mario Phelps (engineer)
Hair Color: N/A
Eye Color: Black
Skin Color: Red
Appearance
Edit
Roger is a red 4-4-0 narrow gauge tender engine with his name and the number "33" painted in white on his sides. He also has dark red wheels, pistons, and cowcatcher.
Roger shares his birthday with late American voice actor Don Messick, who starred in a wide range of Hanna-Barbera cartoon shows, including Scooby-Doo, The Smurfs, Yogi Bear, The Jetsons, and Jonny Quest
Like all the engines on the Piperville Railroad, Roger has a set of coaches in his colors that he uses for passenger excursions
He is based off of the Disneyland Railroad's #2, nicknamed "E.P. Ripley", who is also his real-life counterpart
He is named after former Who lead singer Roger Daltrey and former Queen drummer Roger Taylor