~Ryan is a supporting protagonist for The Railroad Girl.~
Full Name: Ryan The Purple Tank Engine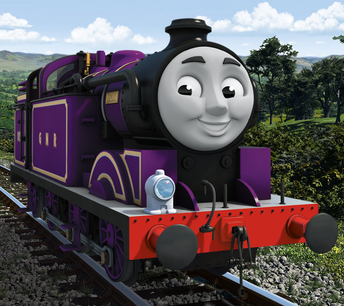 Also Known As: The Iron Grape
Species: Steam Engine
Gender: Male
Age: 13
Relatives: Sir Nigel Gresley (designer), Doncaster Locomotive Works (builder)
Hair Color: N/A
Eye Color: Black
Skin Color: Grey
Appearance
Edit
Ryan is a purple tank engine with purple paint with white and gold lining. He has the letters "G", "N", and "R" painted on his tanks in gold. The number "1014" is painted on his coal bunker in the same color. He also has a gold nameplate with his name on it on both sides of his boiler
Ryan is an affable engine, who goes out of his way to be kind, and is concerned when he sees others in trouble
Ryan would like to be a hero, but he is not actually as brave as he wishes he was, and has a tendency to panic a little in the face of danger
Ryan was brought to Winter City after Thomas was damaged after he (Thomas) crashed into a tree after tumbling down a hill when he hit a stick that Sir Handel and the twins glued to the tracks and painted with invisible paint
After working for a couple of days on Thomas's branch line, Ryan made it his mission to find the pranksters who were responsible for Thomas' crash
He gets his nickname from his purple paint
At first, Karen was jealous of Ryan becuase she thought that Ryan was going to replace Thomas.
Ad blocker interference detected!
Wikia is a free-to-use site that makes money from advertising. We have a modified experience for viewers using ad blockers

Wikia is not accessible if you've made further modifications. Remove the custom ad blocker rule(s) and the page will load as expected.