~Samson is a supporting protagonist for The Railroad Girl.~
Full Name: Samson The Strong Tank Engine
Also Known As: Mr. Muscles
Species: Steam Engine
Gender: Male
Age: 25
Relatives: Neilson and Co. (builder)
Hair Color: N/A
Eye Color: Black
Skin Color: Grey
Appearance
Edit
Samson is a large green-gray saddle-tank engine with green-gray paint with red lining, gold nameplates with his name on them on both sides of his tank, and gold number plates with the number "15" on them on both sides of his coal bunker.
Samson is very dignified and takes pride in his work
He rarely asks for advice to avoid seeming inexperienced in Winter City
He is also quite arrogant and believes to be Winter City's strongest tank engine
He is the only engine in Winter City without a cab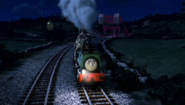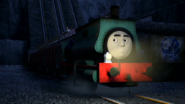 Ad blocker interference detected!
Wikia is a free-to-use site that makes money from advertising. We have a modified experience for viewers using ad blockers

Wikia is not accessible if you've made further modifications. Remove the custom ad blocker rule(s) and the page will load as expected.