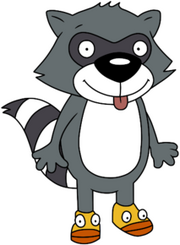 Scootch Raccoon is the deuteragonist of We're The Raccoons.
Full Name: Scott "Scootch" Adam Raccoon
Also Known As: Scootchers
Species: Raccoon
Gender: Male ♂
Birthday: October 23, 2014
Age: 3
Relatives: Walter Raccoon (father), Wanda Raccoon (mother), Pinch Raccoon (older sister), Megan Raccoon (paternal grandmother), Timothy Schafer (maternal grandfather)
Hair Color: Dark Gray, Gray, and White
Eye Color: Black
Skin Color: Peach
Appearance
Edit
Yellow fish-like shoes.
Scootch shares his birthday with Australian singer, musician, and actor Lachlan Gillespie, who is currently the purple wiggle in the Australian children's band The Wiggles, replacing Jeff Fatt.
Scootch has Autism, and as a result is very rambunctious and bursting with energy, so he attends an after-school program taught by Butch Cassidy on Fridays at the Elementary school.
Scootch likes to dance to songs by the Australian children's band The Wiggles to burn off any extra energy he as.
Ad blocker interference detected!
Wikia is a free-to-use site that makes money from advertising. We have a modified experience for viewers using ad blockers

Wikia is not accessible if you've made further modifications. Remove the custom ad blocker rule(s) and the page will load as expected.