~Scruffty is a supporting protagonist for Down On The Farm.~
Full Name: Scruffty The Farm Dog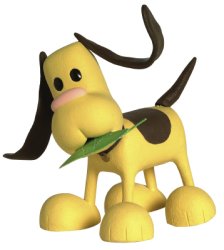 Also Known As: Scruff
Species: Dog
Gender: Male
Birthday: July 7, 2014
Age: 2
Relatives: Percy Pickles (owner), Stephanie Pickles (owner)
Hair Color: Yellow and dark brown
Eye Color: Black
Skin Color: Peach
Appearance
Edit
Scruffty always wears a dog collar with a gold tag.
Scruffty shares his birthday with former Beatles drummer Ringo Starr, who was also known for narrating the first 2 seasons of Thomas & Friends for both the United States and the United Kingdom and for being the first to play Mr. Conductor on Shining Time Station
He mainly serves as a guard dog for the animals on the farm.
He is also a bit cheeky, often taking things and hiding them
Ad blocker interference detected!
Wikia is a free-to-use site that makes money from advertising. We have a modified experience for viewers using ad blockers

Wikia is not accessible if you've made further modifications. Remove the custom ad blocker rule(s) and the page will load as expected.