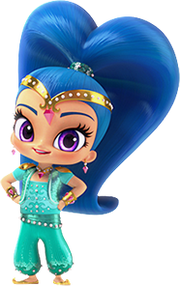 Shine is one of the main protagonists of We're Just Kids.
Full Name: Shine Isabella Aljunni
Also Known As: Shiney
Species: Genie
Gender: Female ♀
Birthday: August 23, 2007
Age: 10
Relatives: Najiv Aljunni (father), Raba Aljunni (mother), Shimmer Aljunni (twin sister)
Hair Color: Blue
Eye Color: Purple
Skin Color: Fair
Appearance
Edit
Blue-green genie outfit, gold shoes.
Shine, along with Shimmer, shares her birthday with American actress Barbara Eden, who is best known for her role as Jeannie in I Dream of Jeannie.
Shine tends to get hungry constantly, and usually congers up food using her genie powers.
Shine and her sister love the Captain Underpants book series, but they are banned at the school, and their parents won't let them read them, prompting Shine to hide a suitcase of Captain Underpants books under her bed.
Ad blocker interference detected!
Wikia is a free-to-use site that makes money from advertising. We have a modified experience for viewers using ad blockers

Wikia is not accessible if you've made further modifications. Remove the custom ad blocker rule(s) and the page will load as expected.