~Smudger is a minor antagonist for The Railroad Girl.~
Full Name: Smudger The Mean Engine 
Also Known As: Meanie Steamie 
Species: Narrow Gauge Steam Engine
Gender: Male
Age: 13
Relatives: Fletcher, Jennings and Co. (designer and builder)
Hair Color: N/A
Eye Color: Black
Skin Color: Grey
Appearance
Edit
Smudger looks strikingly similar to Rheneas, but with green paint with black and gold lining, a black dome, and without the number "2" on his sides. The inside of his cab is red.
Smudger gets his nickname from how he likes to pick on little engines
He also gets his nickname from his beatnik-like attitude
He's also very disrespectful to older engines and his superiors
His favorite bands are Motorhead, Guns n' Roses, Green Day, Metallica, and ZZ Top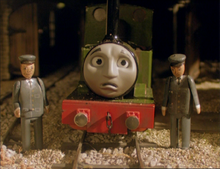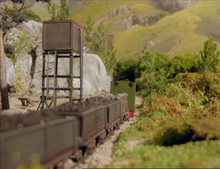 Ad blocker interference detected!
Wikia is a free-to-use site that makes money from advertising. We have a modified experience for viewers using ad blockers

Wikia is not accessible if you've made further modifications. Remove the custom ad blocker rule(s) and the page will load as expected.