~Speed Buggy is a supporting protagonist for The Adventures Of Tinker & Co..~
Full Name: Speeder Alexander Buggy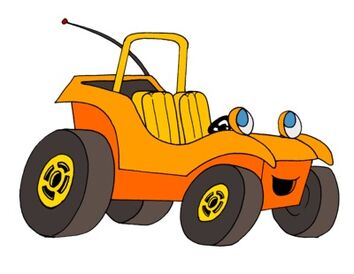 Also Known As: Speedy, Speedster
Species: Dune Buggy
Gender: Male
Birthday: February 13, 2003
Age: 13
Relatives: Tinker Rogers (builder and best friend)
Hair Color: N/A
Eye Color: Blue
Skin Color: Orange and yellow
Appearance
Edit
Speed Buggy is an orange and yellow dune buggy.
Speedy shares his birthday with former Monkees bassist Peter Tork
He LOVES it when his best friend Tinker plays ABBA and Monkees tunes on his (Speedy's) radio
Even though he's a car, he is skilled at volleyball
He serves as the main mode of transportation for Tinker and Hong Kong Phooey
Ad blocker interference detected!
Wikia is a free-to-use site that makes money from advertising. We have a modified experience for viewers using ad blockers

Wikia is not accessible if you've made further modifications. Remove the custom ad blocker rule(s) and the page will load as expected.