Spud is one of the main protagonists for Down On The Farm.
Full Name: Spud The Scarecrow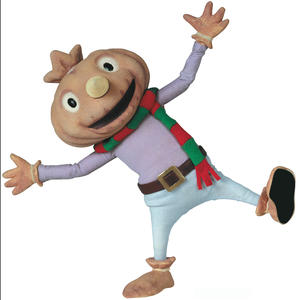 Also Known As: Silly Spud
Species: Scarecrow
Gender: Male
Birthday: March 7, 1997
Age: 20
Relatives: Percy Pickles (creator and adoptive father), Stephanie Pickles (adoptive sister), Wally Pickles (adoptive brother), Travis The Tractor (friend)
Hair Color: N/A
Eye Color: Black
Skin Color: Brownish-tan (pale yellow nose)
Appearance
Edit
Spud always wears pale blue pants, a lavender shirt, a brown belt with a brass buckle, a red and green scarf, light brown gloves, and light brown shoes.
Spud shares his birthday with Australian singer and actor Simon Pryce, best known for his work with the children's television series The Kingdom of Paramithi and for being the current Red Wiggle in the children's music band The Wiggles, having replace original Red Wiggle Murray Cook in 2012.
He is very comical and always succeeds in making Connie laugh.
Though he can be naughty at times, he does mean well and often tries to help out whenever he can.
Ad blocker interference detected!
Wikia is a free-to-use site that makes money from advertising. We have a modified experience for viewers using ad blockers

Wikia is not accessible if you've made further modifications. Remove the custom ad blocker rule(s) and the page will load as expected.