~Stanley is a supporting protagonist for The Railroad Girl.~
Full Name: Stanley The Silver Engine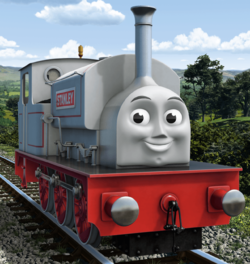 Also Known As: Stan
Species: Steam Engine
Gender: Male
Age: 9
Relatives: Hudswell Clarke/Kitson (designers and builders)
Hair Color: N/A
Eye Color: Black
Skin Color: Grey
Appearance
Edit
Stanley is a white tank engine engine with a metallic silver smoke-box, red lining, red wheels, and his name on each side of his saddle-tank.
Stanley's popularity with Thomas The Tank Engine fans has grown following an online video called "A Toy Train in Space", in which a toy model of him was sent into space
Stanley enjoys helping others out
Stanley is very good friends with Thomas. They had a little rivalry at first, but quickly became friends after Thomas discovered Stanley was a Hardy Boys fan like him
Stanley also runs a shop in the center of town
Ad blocker interference detected!
Wikia is a free-to-use site that makes money from advertising. We have a modified experience for viewers using ad blockers

Wikia is not accessible if you've made further modifications. Remove the custom ad blocker rule(s) and the page will load as expected.