~Stepney is a supporting protagonist for The Railroad Girl.~
Full Name: Stepney The Bluebell Engine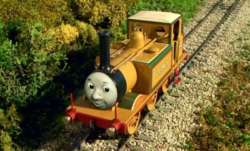 Also Known As: Goldenrod
Species: Steam Engine
Gender: Male
Age: 10
Relatives: William Stroudley (designer), Brighton Works (builder)
Hair Color: N/A
Eye Color: Black
Skin Color: Grey
Appearance
Edit
Stepney is a goldenrod tank engine with goldenrod paint with red and green lining, his name on both sides of his boiler, the number "55" on both sides of his coal bunker, and red side-rods.
Stepney is a devout mystery fan like Thomas and Stanley, and he even formed an engine detective agency with Thomas, Percy, Toby, and Stanley called "The Winter City Detective Agency", or simply "TWCDA"
His favorite band is The Bee Gees
He is the only engine in Winter City with a different colored set of side-rods
He is a very bubbly, honest, and humble engine who is bustling with enthusiasm, and is always ready to work
He also has a compassionate and sympathetic side for whenever another engine is feeling down in the dumps
He is best friends and mostly hangs out with Doki
Ad blocker interference detected!
Wikia is a free-to-use site that makes money from advertising. We have a modified experience for viewers using ad blockers

Wikia is not accessible if you've made further modifications. Remove the custom ad blocker rule(s) and the page will load as expected.