Steve is the lead singer for The Sensations as well as a supporting protagonist for The Hardy Boys And The Loud Girls and one of the main protagonists for At Home With Karen.
Full Name: Steven Michael Burns, Jr.
Also Known As: Junior, Stevie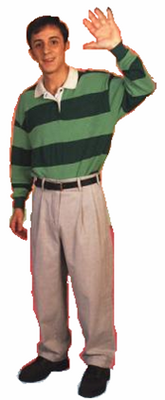 Species: Human
Gender: Male
Birthday: October 9, 1995
Age: 23
Relatives: Steven Burns, Sr. (father), Olivia Burns (mother), Joe Burns (younger brother), Holly Burns (younger sister), Ruth Burns (paternal grandmother), Blue (pet), Fred Jones (best friend)
Hair Color: Dark Brown
Eye Color: Brown
Skin Color: Fair
Notable Instruments: Oriolo Pilot, Fender Jaguar, Gretsch G9460 6-String Banjo, Brian May Red Special, Rickenbacker 381, Ovation Celebrity Standard, Fender Mustang, Gibson SG, Gretsch Irish Falcon
Appearance
Edit
Steve always wears a green rugby shirt, khakis, pale green socks, and dark brown shoes.
Steve shares his birthday with 2 late British musicians: John Lennon of The Beatles and John Entwistle of The Who.
He is very fond of bananas as well as guitars
On St. Patrick's Day, he wears the same shirt, socks, and shoes, but with green pants instead of his khaki ones, plus a green baseball cap
He also owns a 1974 Volkswagen Thing that he inherited from his father on his 18th birthday.
He's stated that his first guitar, his Oriolo Pilot, has to be his favorite.