~Steve Sr. and Olivia Burns are the tritagonists for Holly & Blue.~
Full Names: Steven Michael Burns, Sr. and Olivia Patricia Burns (née Winston)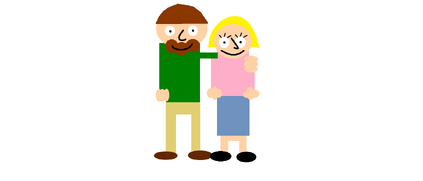 Also Known As: Mom and Dad
Species: Human
Genders: Male (Steve Sr.) and Female (Olivia)
Birthdays: August 18, 1977 (Steve Sr.) and February 25, 1978 (Olivia)
Ages: 40 (Steve Sr.) and 39 (Olivia)
Relatives: Steve Burns, Jr., Joe Burns (sons), Holly Burns (daughter), Blue (pet)
Hair Colors: Brown (Steve Sr.) and Blonde (Olivia)
Eye Colors: Both Black
Skin Colors: Both Fair
Appearances
Edit
Like his eldest son, Steve Sr. wears green, khakis, and dark brown shoes, but only he wears a solid dark green shirt. Olivia wears a pink shirt, a blue-gray skirt, and black shoes.
Steve Sr. shares his birthday with American actor Christian Slater and Olivia shares her birthday with late Beatles lead guitarist George Harrison. Olivia was born on the late Beatle's 24th birthday
Both own the house they live in with their daughter and formerly with their sons before they moved out
Steve Sr. owns the family car, which is a 2013 Toyota Highlander that he bought after he handed down his 1974 Volkswagen Thing to his oldest son, Steve Jr.
Ad blocker interference detected!
Wikia is a free-to-use site that makes money from advertising. We have a modified experience for viewers using ad blockers

Wikia is not accessible if you've made further modifications. Remove the custom ad blocker rule(s) and the page will load as expected.