~Sticks is a supporting protagonist for The Railroad Girl.~
Full Name: Melanie "Sticks" Pollyanna Beauregard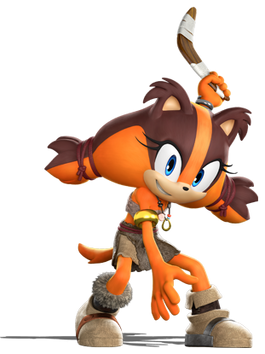 Also Known As: Badger Girl
Species: Badger
Birthday: November 29, 2001
Age: 15
Gender: Female
Relatives: Bradley Beauregard (father; status unknown), Marjorie Beauregard (mother; deceased), Wendy Beauregard (stepmother; incarcerated) Unnamed great-aunt (great-aunt)
Hair Color: Orange and Dark Brown
Eye Color: Blue
Skin Color: Peach
Appearance
Edit
Sticks always wears a gray tube-top, matching hairbands, a necklace with various objects, a metal spiral bracelet, a golden bracelet, a gray skirt with auburn rope belt, and an un-matching pair of tan fur boots.
When Sticks was 7 years old, her mother died of colon cancer, and her stepmother was abusive to her. She would always be hitting her, pounding her, slapping her, etc. Finally, her father had had enough of his daughter being treated like dirt, so he divorced and called the police on the abusive woman.
When she was 8 years old, her father was kidnapped by a gang of street thugs, and she has lived alone ever since
She has not received word yet if her father is either dead or alive and is always waiting by her mailbox for Percy to bring a letter to her from her father saying he's alive
She used to live in the woods until she found herself at home at a newly-constructed beach hut, which she bought with the money she was given when she won first prize in an archery competition, in which she used a homemade bow, which she used to use for hunting, but now uses for archery target practice
She shares her birthday with former The Mamas & The Papas member Dennis "Denny" Doherty, who also was known as the narrator for the Canadian children's television show "Theodore Tugboat", in which he played the sole human character, that being The Harbormaster
She frequently visits the narrow gauge engines when she's not working at the tropical smoothie shop in which she opened up her own smoothie business called "Sticks' Smoothies"
She runs the smoothie shop from her home
In the summer, she tends to take off her boots and walk around barefoot so her feet won't get hot and sweat
In the winter, she adds a cloak she made from the skin of a bear to her outfit
She is a constant target for Sir Handel's prank calls
She gets her nickname from how she's skilled at throwing a boomerang
Like Caitlin, she is a fan of Brazilian pop singer Felipe Dylon
She is also a fan of Swedish pop group ABBA
She has a nasty bruise from when her abusive stepmother pounded her in the chest, which is why she never takes off her tube-top unless she's taking a bath
Her beach hut is a frequent spot for luaus and 4th of July BBQ parties
Since her dad was born in Hawaii, she has learned about Hawaiian culture from him, including food and music
She also took video drum lessons from John Tracy, and is now the proud owner of a Ludwig Keystone Power Beat drum kit in and Apple Glass Finish
Her hut also has a room that has a floor made entirely out of sand, which Sticks uses as a reading room or to relax and feel the sand between her toes
Ad blocker interference detected!
Wikia is a free-to-use site that makes money from advertising. We have a modified experience for viewers using ad blockers

Wikia is not accessible if you've made further modifications. Remove the custom ad blocker rule(s) and the page will load as expected.