~Toby is a supporting protagonist for The Railroad Girl.~
Full Name: Toby The Tram Engine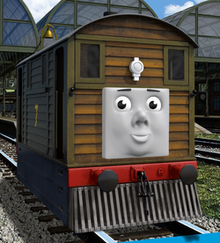 Also Known As: Square-Face
Species: Steam Tram
Gender: Male
Age: 14
Relatives: James Holden (designer), Stratford Works (builder), Mavis (crush on her side)
Hair Color: None
Eye Color: Black
Skin Color: Grey
Appearance
Edit
Toby is a wooden steam tram with brown paint, cowcatchers, side-plates, and the number "7" painted on his sides. He also has a bell.
Toby gets his nickname from how he looks like a square crate on wheels
Toby's favorite movies are Support Your Local Sheriff, Butch Cassidy & The Sundance Kid, and The Good, The Bad, & The Ugly
Toby's favorite TV shows are The Roy Rogers Show and The Rifleman
Toby is best friends with Thomas and Percy
Toby has a keen interest in birdwatching, and often spends his free time watching for rare birds.
Ad blocker interference detected!
Wikia is a free-to-use site that makes money from advertising. We have a modified experience for viewers using ad blockers

Wikia is not accessible if you've made further modifications. Remove the custom ad blocker rule(s) and the page will load as expected.