~Top Cat is a famous millionaire and one of the main protagonists of The Crown Jewel Caper. He is also the lead guitarist for Finny Fogg & The Furballs.~
Full Name: Thomas Abraham deLacey Giuseppe Casey Cat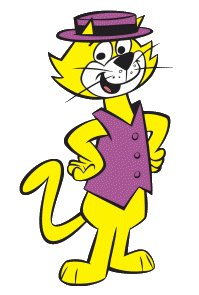 Nickname(s): Top, T.C.
Birthday: February 5, 1991
Age: 25
Gender: Male
Hair Color: Yellow
Eye Color: Black
Skin Color: Peach
Residence: An elegant mansion on 555 Sycamore Avenue.
Relationships: Paul and Stella Cat (parents, deceased), Olivia Cat (grandmother, deceased), Choo-Choo, Benny the Ball, Brain, Spook, and Fancy-Fancy (all adoptive brothers and bandmates), Finny Fogg (friend and bandmate) Spud The Scarecrow (friend), Edgar (butler, friend), Tails (friend), Cream The Rabbit (friend), Brains (friend)
Occupation(s): Millionaire, musician
Likes: Billiards, card games, croquet, golf, paddle-boating, bird watching, swimming, star-gazing
Dislikes: Anything bad happening to any of his friends or his family, shoes (explanation in the trivia)
Favorite Food(s): Lasagna, salmon, lox, roast beef, pork, ham
Least Favorite Food(s): Tuna, sardines
Known prized possession(s): A Woody doll he was given by his grandmother for his 3rd Christmas
Hobbies: Leisure activities such as the ones listed above
Appearance
Edit
Casual Outfit: A purple hat with a black stripe, purple vest
Pajamas: A white t-shirt
Formal Outfit: A black bow-tie with his casual outfit
Personality
Edit
Top Cat is very clever and has a great sense of humor, like Gordon Tracy. He's also cunning and courageous and very kind.
He looks after Benny like a little brother
Tails and Cream look up to him like their father
He does wear shoes for certain parts of the year, but mostly all the time, he prefers to go barefoot
His charm has won him and his gang the friendship of the British Royal Family
When he was a little kitten, his parents were killed in a bus accident and he was sent to live with his wealthy grandmother, but later she died of a heart attack, and left him the mansion and all her money in her will when he was only 15 years old
He shares some of his full name with O'Malley from The Aristocats
His instrument in the band is an Eastwood Surfcaster
He shares his birthday with late American golfer Frank Stranahan
Ad blocker interference detected!
Wikia is a free-to-use site that makes money from advertising. We have a modified experience for viewers using ad blockers

Wikia is not accessible if you've made further modifications. Remove the custom ad blocker rule(s) and the page will load as expected.