Top Cat is one of the main protagonist of The Adventures Of TC & The Furballs.
Full Name: Thomas "Top Cat" Clarence Bixby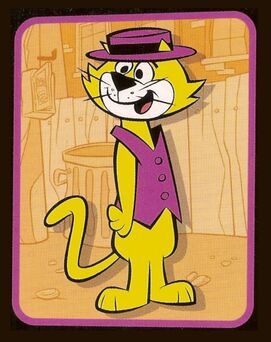 Also Known As: Tommy, TC
Species: Cat
Gender: Male
Birthday: November 28, 1986
Age: 31
Relatives: Simon Bixby (father; deceased), Dorothy Bixby (mother; deceased), Julietta Bixby (paternal grandmother), Myra Bixby-Sumner (younger sister), Neil Sumner (brother-in-law), Sheldon Sumner (nephew)
Hair Color: Yellow
Eye Color: Black
Skin Color: Peach
Appearance
Edit
Top Cat always wears a purple pork pie hat with a matching vest.
Top Cat shares his birthday with late English songwriter and musician John Spinks, best known as the guitarist and songwriter for English rock band The Outfield
His parents were killed by a mugger when he was eight years old, leaving him and his sister in the care of his paternal grandmother until he moved after buying his own house
He comes from a wealthy background, and inherited his father's fortune and bought himself a Spanish mission-style home for him and his bandmates
His instruments are a Yamaha YRS‑312B recorder and a Hohner Chromonica 48 harmonica 
He and Huckleberry Hound have been friends since childhood
Ad blocker interference detected!
Wikia is a free-to-use site that makes money from advertising. We have a modified experience for viewers using ad blockers

Wikia is not accessible if you've made further modifications. Remove the custom ad blocker rule(s) and the page will load as expected.