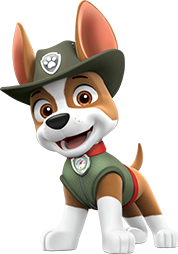 Tracker is one of the main protagonists of We're Just Kids.
Full Name: Tracker Rafael Cachorro
Also Known As: Tracky
Species: Chihuahua
Gender: Male ♂
Birthday: March 1, 2007
Age: 10
Relatives: Antonio Cachorro (father), Angelina Cachorro (mother)
Hair Color: Brown, White
Eye Color: Brown
Skin Color: Peach
Appearance
Edit
Dark green fedora, red collar, dark green vest.
Tracker shares his birthday with Spanish actor Javier Bardem.
Tracker's father is Mexican, but his mother is American, making him Mexican-American.
Tracker is afraid of the dark, and sleeps with a night light that's a Mexican flag.