~Velma Dinkley is the main protagonist of the upcoming series Adventures In Disney Town.~
Full Name: Velma Marion Dinkley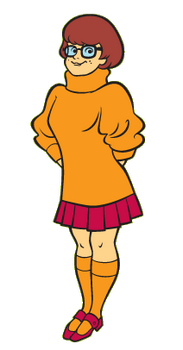 Also Known As: Little Miss Smarty Pants, Velm
Birthday: December 18, 2002
Species: Human
Gender: Female
Age: 15
Relatives: Victor Dinkley (father), Martha Dinkley (mother), Madelyn Dinkley (sister), Evan Llewellyn (paternal uncle), Meg Llewellyn (paternal aunt), Marcy Llewellyn (paternal cousin), Thelma Dinkley (maternal aunt), Cosmo Dinkley (maternal uncle)
Hair Color: Auburn
Eye Color: Black
Skin Color: Fair
Appearance
Edit
Velma normally wears an orange sweater, with a red skirt, knee length orange socks and red Mary Jane shoes.
Velma shares her birthday with English guitarist Keith Richards, best known for being the lead guitarist for English rock band The Rolling Stones
She LOVES the Nancy Drew books and PC games
Her pajamas consist of an orange t-shirt with her socks and a pair of red slippers
Her winter outfit consists of an orange beanie with a red pom-pom and a red scarf
Ad blocker interference detected!
Wikia is a free-to-use site that makes money from advertising. We have a modified experience for viewers using ad blockers

Wikia is not accessible if you've made further modifications. Remove the custom ad blocker rule(s) and the page will load as expected.