~Wyldstyle is a supporting protagonist for The Construction Boy.~
Full Name: Lucy "Wyldstyle" Olivia Brickowski née-Paxton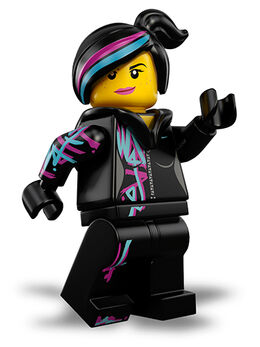 Also Known As: Miss Lucy
Species: Human
Gender: Female
Birthday: April 12, 1982
Age: 34
Relatives: Brick Brickowski (son), Emmet Brickowski (husband), John Paxton (father), Avery Paxton (mother)
Hair Color: Black with 2 differently-colored strands: one blue and one pink
Eye Color: Black
Skin Color: Yellow
Appearance
Edit
Wyldstyle always wears a black hoodie with blue and pink artwork, matching black pants, pink lipstick, and black boots. She also has freckles on her face.
Wyldstyle shares her birthday with singer and guitarist John Kay, best known as the frontman for the band Steppenwolf
She has a black belt in all martial arts
She is obsessed with sports, making her a tomboy
Whenever Nelson the ballast tractor is being used by her husband, she and her son use a white Jeep Cherokee for transportation
Ad blocker interference detected!
Wikia is a free-to-use site that makes money from advertising. We have a modified experience for viewers using ad blockers

Wikia is not accessible if you've made further modifications. Remove the custom ad blocker rule(s) and the page will load as expected.