~Zuma is a supporting protagonist for The Hardy Boys And The Loud Girls.~
Name: Zuma

Also Known As: Little Zuma, Sweetie (only by Daphne)
Species: Chocolate Labrador
Gender: Male
Birthday: May 17, 2012
Age: 4
Relatives: Daphne Blake (owner), Fred Jones (owner), Steve and Joe Burns (owners), Unnamed biological parents
Hair Color: Brown
Eye Color: Hazel
Skin Color: Peach
Appearance
Edit
Zuma is a chocolate lab puppy who wears a dark blue collar that has an orange tag with an anchor on it.
Zuma loves Daphne like she was his own mother
Zuma loves spending time with his owners
Zuma is afraid of the dark and sleeps with a teddy bear and a night light
Zuma likes pirates
Zuma shares his birthday with late Cincinnati Bengals wide receiver Chris Henry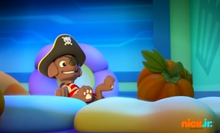 Ad blocker interference detected!
Wikia is a free-to-use site that makes money from advertising. We have a modified experience for viewers using ad blockers

Wikia is not accessible if you've made further modifications. Remove the custom ad blocker rule(s) and the page will load as expected.